20 Acre Private Retreat — Get away and Go within
Escape to the stunning mountains of Virginia on a 20-acre private sanctuary. A peaceful respite in a cozy cabin, surrounded by the George Washington National Forest, with open sky views of the Milky Way, and a natural waterfall that flows quietly outside your door from the stream that runs through the property. Skywater Hollow Retreat setting is located in the Shenandoah Valley, Virginia, a lovely drive 'just down the road' from Lost River, West Virginia and Harrisonburg, Virginia. Located 2 hours from Washington DC and 3 from Baltimore, easily accessible from Pittsburgh PA, Richmond VA, & Charlottesville VA.
A World Away from Your Everyday
Leave behind the normality of your everyday life and journey to a place of healing and discovery. Purge yourself of the busyness and begin to absorb the peace and quiet from the natural world around you. Establish an atmosphere of being "on retreat" while being away from your ordinary world, while you are vacating your everyday life, you are setting aside your usual routine.
View Nature in a Whole New Light
Be able to not just be in nature, but to connect with nature in a way that will allow you to experience silence and the wisdom of your inner voice, so that you can return to your daily life more conscious, connected, and aware.
Activities for the Soul
The most valuable investment we can make in life is on our personal and spiritual development. We live in a world where too many people have too little time away from the ubiquitous distractions of our smartphones, constant expectations of self, the demands of others, and reminders of our personal and professional goals.
An escape to the mountains of Virginia on a 20-acre private sanctuary
The original 119 year old homestead, has been renovated, it is one level, rustic, and charming, with a sunny bedroom and a comfortable queen size bed. This is a great location for a writer's retreat or a getaway from the daily stresses to unplug and be in nature.
You will have the entire home to yourself, and you are completely surrounded by national forest, situated on 20 private acres. There are no neighbors in sight, except when the leaves fall off the trees, the closest neighbor is located across the stream over the foot bridge.
There is a small but useful kitchen, a quaint living room with a pull out couch, one screened in porch and one enclosed porch, a fire pit, a natural waterfall, and no light pollution.
We are surrounded by woods with beautiful trail access to the George Washington National Forest, right out the back door. Because of the location, cell service at the cabin is extremely limited (only Sprint service works and not very well). You can unplug completely, with no smart phone and no TV... however, there is WiFi.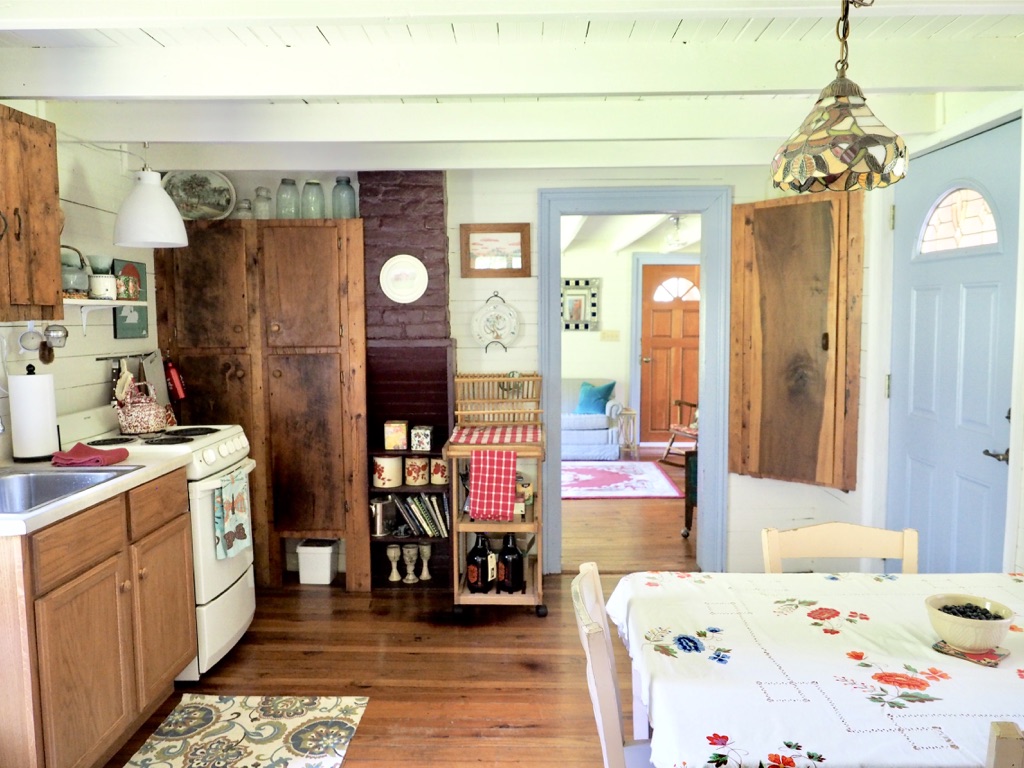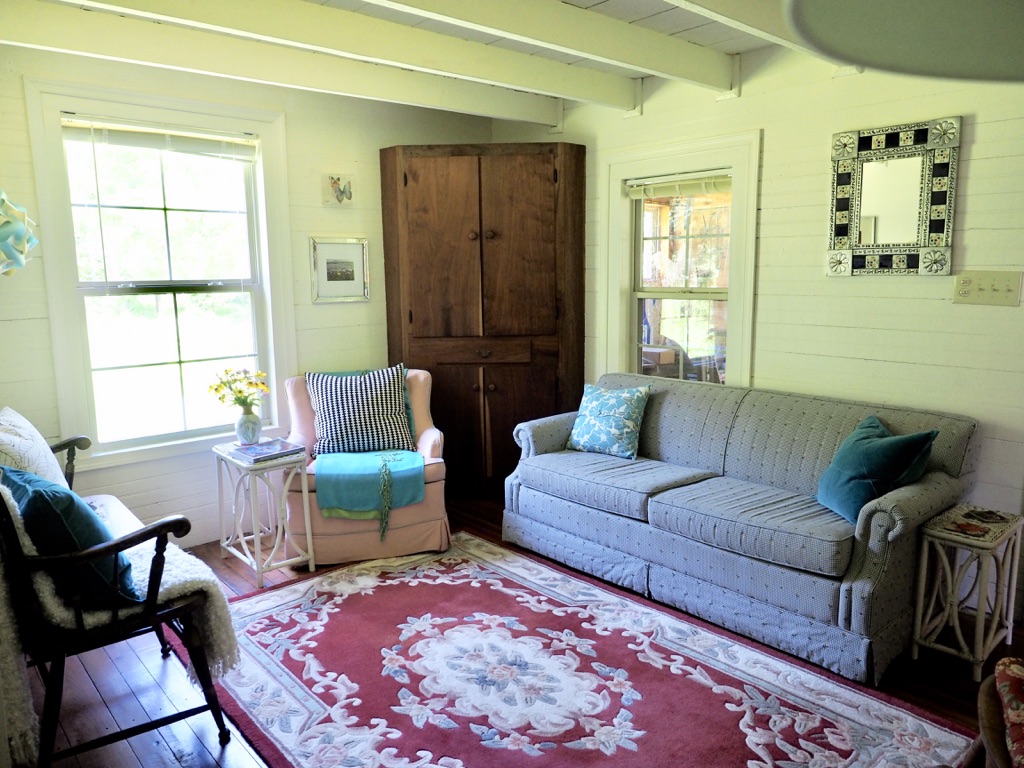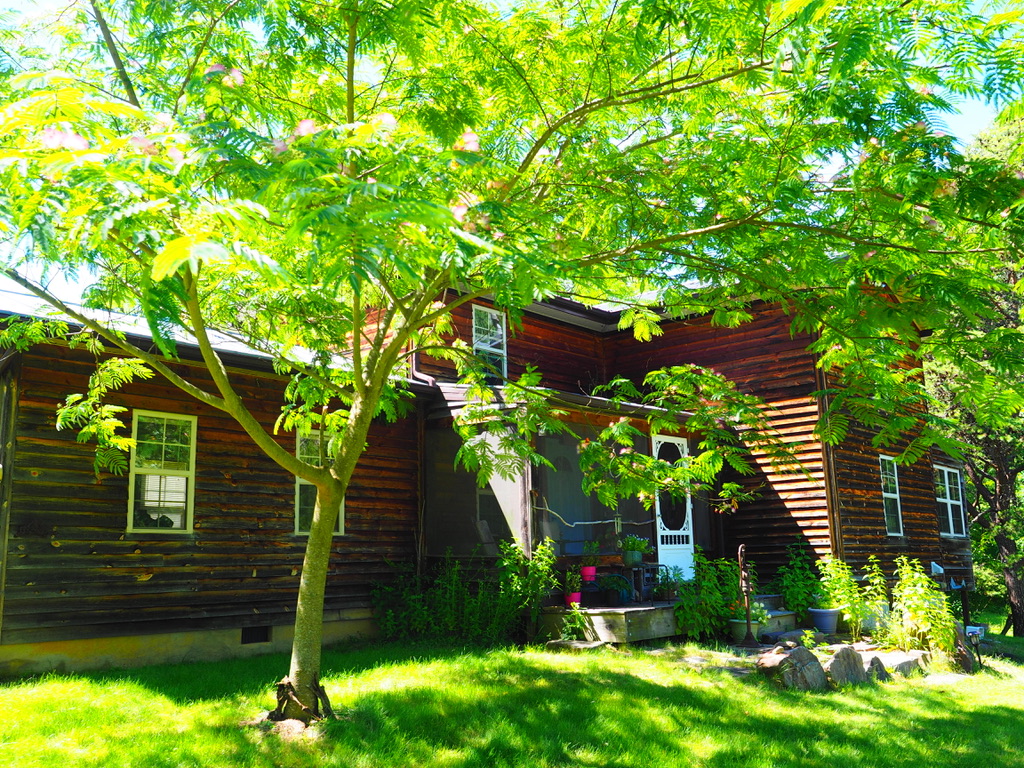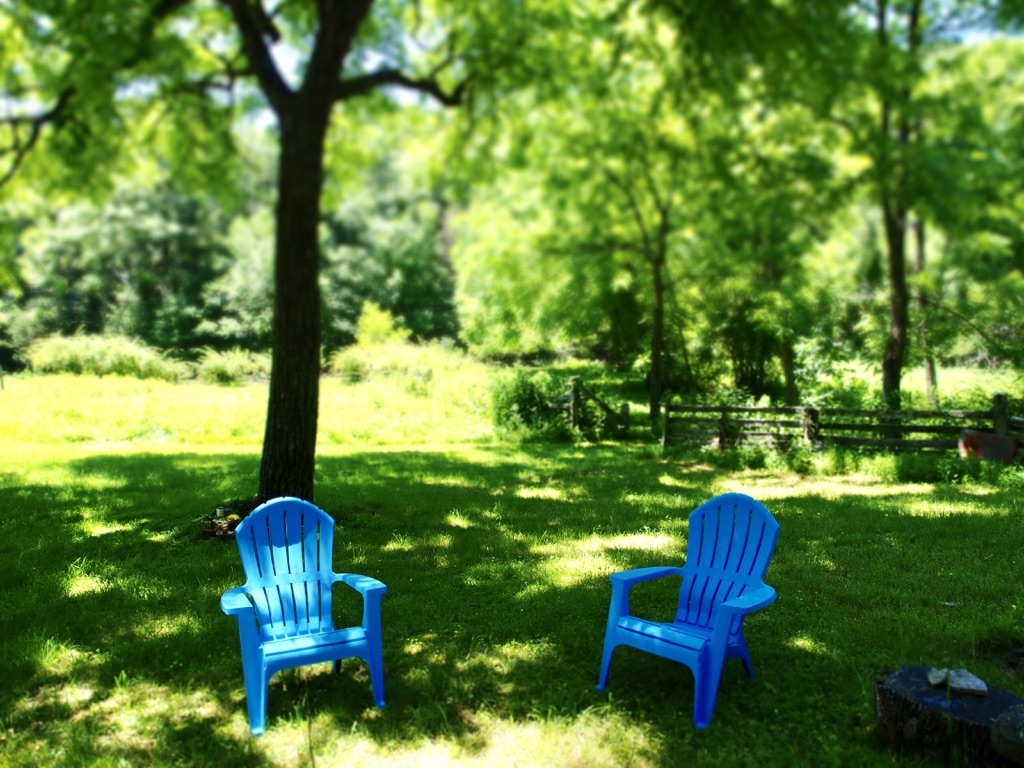 The Area
There are many things to do and see near us. You can walk right out the back door into the George National Washington Forest or sit quietly on one of the porches for hours and watch the bird and wildlife come through the yard.
One of my favorite nearby adventures is Lost River State Park, and the Cranny Crow overlook hike, where on a clear day you can see two states, five counties, and a whole lotta mountains and sky.
You can also visit nearby wineries, breweries, distilleries, and restaurants that serve good home cooking. It's an easy drive to Endless Caverns, Shenandoah National Park, the Skyline Drive, and much more. We can offer a "welcome talk" with more detailed suggestions of our area's entertainment upon your arrival, we are more than happy to share our personal favorites.
You will want to purchase your groceries before arriving. There is a Walmart and Foodlion within a 15 minute drive, in Timberville Virginia. Other options for groceries would be Harrisonburg Virginia (a 40 minute drive) or Lost River West Virginia (30 min drive) for restaurants and Wardensville West Virginia (40 min) for more amenities and restaurants.
Guest Interaction & Booking
This is my home. I am renting it out for weekends or longer periods of time, while I am living in Norway for the next two years. We would like to have people we know enjoy this place, or people who are referred to Skywater Hollow through friends, or friendly recommendations. I will not be available to interact with guests, however, my parents live next door and are around to answer questions if you need them.
If you are interested in booking for 2 or more days, please email me at skywater@exploredeeply.com with preferred dates and length of stay, and I will return your email within 24 hours. I would like to rent the cabin for weekends, long weekends, or even extended stays for things like writing retreats, spiritual getaways, or peaceful escapes to nature. Pricing and scheduling is flexible based on your desires, and of course the availability of the cabin and season.
Those of you who have retreated with me in the past or visited here before, know this place has a special energy about it, and there seems to be a magic in the woods all around.
Dining
Kitchen (Space where guests can cook their own meals, table & 4 chairs)

Electric 4 Burner Stove

Coffee Pot

Toaster

Basic Cooking Utensils & Dishes
Safety features
Fire extinguisher

Smoke detectors

First aid kit
Not included : TV, Microwave, Dishwasher, Shampoo
Basics Included
Air conditioning/ Central heating

WiFi

Parking on premises (across the stream)

Washer/Dryer
Essentials: towels, bed sheets, soap, and toilet paper
Bed and bath
One Queen size bed in bedroom

Sofa bed (pull out couch) in living room

Claw foot tub in bathroom, old fashioned hand held shower

Hair dryer
Other Things to Note:
The house is a hidden gem and a great getaway. It involves a little bit of a rough road to get here, make sure you are comfortable with 1.5 miles of a rural road that turns into dirt for about .6 miles— 2 wheel drive cars find it no problem to get here, we just suggest you drive a little slower than you're used to.
You cannot drive up to the cabin, you will access the cabin by walking over a footbridge to the west side of the property. You must park your car on the opposite side of the creek from the cabin.
House Rules
Not safe or suitable for children (0-12)

No pets

No smoking, parties, or events (unless otherwise coordinated with me— like you want to host your own spiritual retreat here on the land)….

Check-in and check out time is flexible
Gallery of Seasons at Skywater Hollow: